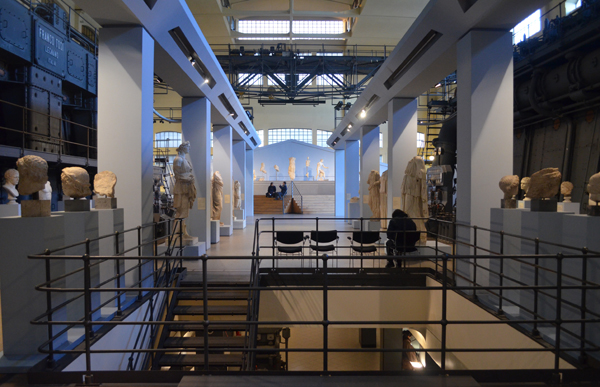 12.2015 - 01.2016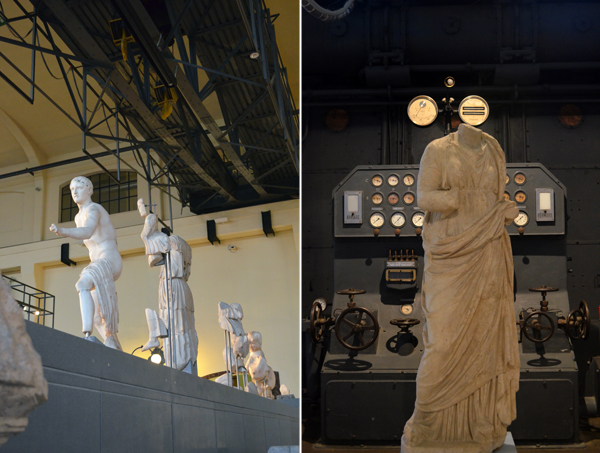 There was amongst some a post-WWI mentality to build towards "a day when foreigners would come to Italy on a new grand tour, attracted not by its aesthetic or historical patrimony, nor by the dolce far niente lifestyle, but by the achievements of modern industry[1]." Fascism wanted to avoid sentimentality by stripping away the medieval city to expose clear and vigorous Roman monuments, and to build a future for Italy based on efficiency and technology.
In 1997 when the Capitoline museums were undergoing renovations it was decided to use the Montemartini power plant as an exhibition space. (In fact the plant had already been used as a museum to showcase the engines.) The Capitoline Museum exhibit was called "The Machines and the Gods" – and it appears the layout remains largely the same today. There is a strange rapport between the statues and the machines, bringing to mind human anatomy with their valves, rushing pipes, energy. The setting could as easily be imagined as a museum for human physiology. The displays, painted pastel colors to contrast with both the industrial and classical again echo the primitive geometries that modern architects use to signify both the Roman and the timeless.
Elements of the thermoelectric power plant are labeled, as is the art. In fact, the Fascist works and roads in Rome unearthed a large number of the Roman sculptures on display, and the plant was extended with the intention to provide energy for the E42 project further to the south. Rather than visiting the Montemartini for any current technological relevance, these machines are historicized and the display relishes in the picturesque of industry.
1. Arthurs, Joshua. Excavating Modernity: The Roman Past in Fascist Italy.