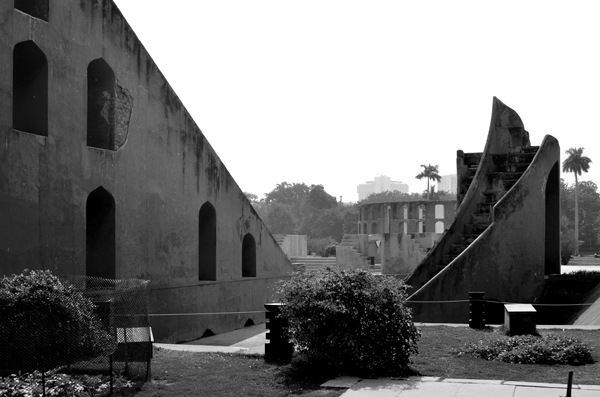 01.2016 - 03.2016
The Jantar Mantar complexes in New Delhi and Jaipur built by Maharaja Jai Singh II of Jaipur in the first half of the 18th century take the traditional astronomical measuring tools and enlarge them to increase precision; the larger sundial in Jaipur can indicate the time to an accuracy of seconds. Each instrument is built precisely for their geographic latitude and longitude which determines the slopes and geometrical configurations.
The large scale has required a spatialization of these objects, creating an architecture of observation in which the program rather than the space contained is the sculpture itself. Instead of ornament we have metrics. Furthermore, it has complicated the notion of figure/ground; some of the instruments are twinned, such that each represents the void of the other.
These projects can be seen as early grumblings of modernism, where form IS function. Each structure is attuned to a specific task of measurement, and a precursor to the later prismatic forms of Modernism in India. LeCorbusier's Tower of Shadows at the capitol complex in Chandigarh follows a similar vein of research. Here the angle of the sun throughout the year is examined and specific shades are created to keep the interior space always in the shade. This pavilion serves as a prototype proof of concept for all the other projects to ensure that the interior spaces can remain cool.