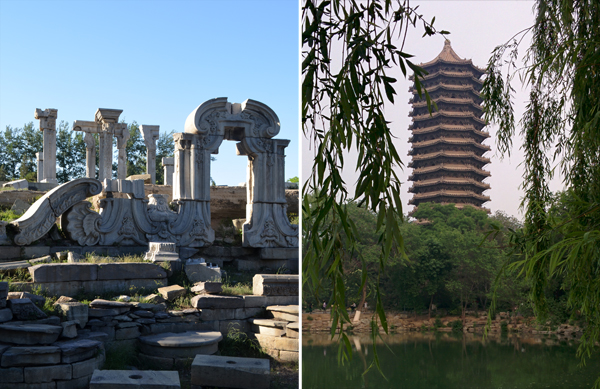 04-05.2016
In addition to bringing back luxury goods including silk and tea from China to Europe, travelers also transmitted impressions of the landscape and built environment of the country. Thus, the Asian influence on the Picturesque in England is clear. "The style of Chinese gardens, described by the Jesuits in their letters sent back to Europe and in other accounts, had considerable influence in the Occident during the eighteenth century. The pagoda built in 1761 and still standing in Kew Gardens is but one small reminder of this.[1]"
An important element of the picturesque English garden was the folly, often a small pavilion or artificial ruin of some exotic style. Yuan Ming Yuan, the (old) Summer Palace was a particularly admired garden which included a number of buildings in the Occidental style with Chinese motifs. Sadly it was the English and French who would destroy Yuan Ming Yuan in 1860, leaving these western buildings in artful ruin.
Of course the transmission of ideas on planning did not run only from East to West. The old campus of Tsinghua University can clearly be seen to have influences of Jefferson's scholastic planning, with a large domed building at its head.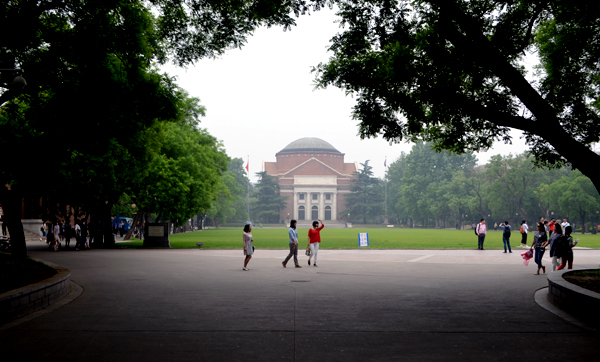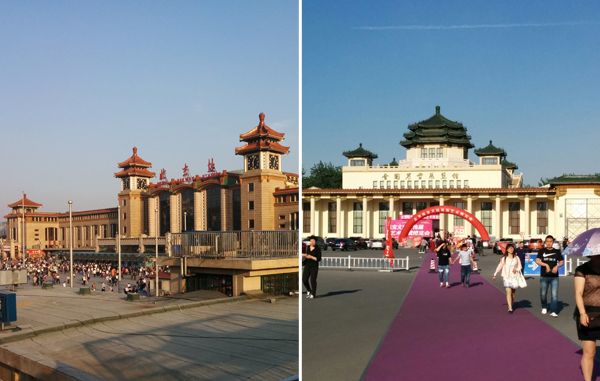 The upturned roof profile[2] (which for many Westerners is immediately associated with the romantic imagery of the Oriental) persisted even as the construction methodologies in China were modernising. It can be seen in several of the 10 great projects of 1959 built to celebrate the tenth anniversary of the PROC. Although these projects might be described as Sino-Soviet in style, they are essentially post-modern interpretations of the tiled roof, a trope that can be found up to the present day, often much less successfully.
As a counterpoint to the literalism of these "typical" upturned roofs are contemporary projects which present evocative rooflines without post-modern reductionism. Amateur Architecture has taken two approaches to the in the China Art Academy in Hangzhou, in one case an almost Corbusian roof in rough concrete, which hints at a traditional profile while being completely modern. In another example they adopt the structural excessiveness and exuberance of the dougong in the structural idiom of the roof truss.
Chaoyang Park Plaza by MAD is directly inspired by Chinese landscape imagery more or less literally. The Wangjing and Galaxy Soho projects by Zaha Hadid while not as literal, also evoke the naturalistic mountain range.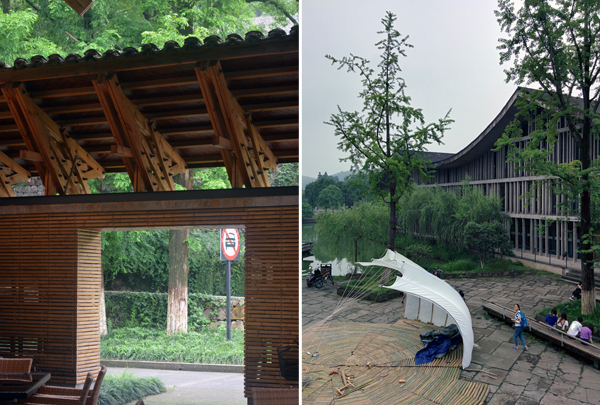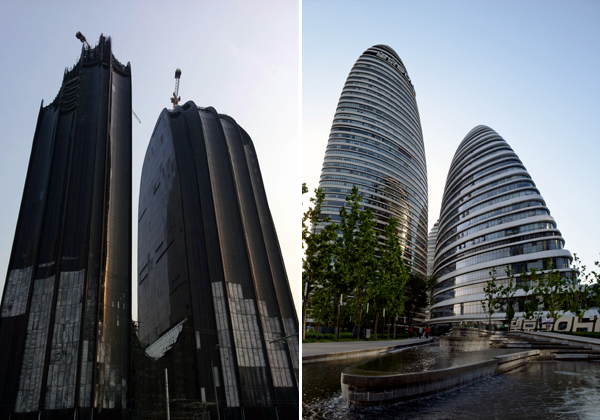 1. Haw, Stephen G. Beijing – A Concise History.
2. This term is used very loosely because the upturned roof, while stereotypically Oriental, actually takes on different formal and material "dialects" in various regions and periods.